Metakit@Web is a web-based admin-interface for metakit-files
Metakit@Web is a web-administration-interface for metakit-files and works with Tclhttpd. It's like the well known phpMyAdmin but only for metakit-database-files and only suited for the real tcl-webserver.
News
June 04 – Metakit@Web (0.5) is now distributed as a sample-app in TclHttpd 3.5.1
April 04 – Jean-Claude Wippler has built a starkit of Metakit@Web (downloadable at http://www.equi4.com/pub/sk/mkatweb.kit) – Thanks Jean-Claude.
February 04 – Released version 0.6
Introduction
Metakit@Web is an administration-interface written for TclHttpd. It can be used to administrate metakit-database-files. I'm using it as a rapid-prototyping-tool to develop data-models and quickly store and edit data.
The features of Metakit@Web (version 0.6) in detail:
easy installation in TclHttpd (just extract the zip-file into your htdocs-directory)
easy creating, editing, manipulating Metakit-files (useful for rapid-prototyping)
easy browsing through content of Metakit-files
if you have stored images inside you metakit, you can easily look at them through the browser-interface
session-support (with row-locking) (not supported by 0.5)
htaccess-support (not supported by 0.5)
multi language-support (thanks to Miko le pépé) (not supported by 0.5)
There are now two different versions of Metakit@Web with two different techniques used.
version 0.5: consists of only one file and is implemented as a Direct_Url
version 0.6: is a htdocs-directory and allows you to have .htaccess files and sessions.
Version 0.5 can still be downloaded but I won't do any more work on it.
Here is a screenshot of Metakit@Web (0.5/0.6):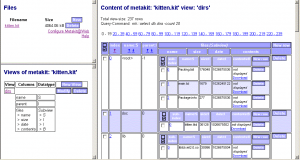 Installation
Installation is quite simple (as always with Tclhttpd):
Download mkatweb_06.zip
Extract the zip-file into your htdocs-directory
(For version 0.5 you have to put the tcl-file int the Tclhttpd-custom-directory. For some version 3.4.2 you may have to patch your Tclhttpd so that custom-files are read. Be sure to remove version 0.5 if you want to install 0.6)
Create a directory where you want to place your metakit-files (e.g: /metakits or c:/metakits)
Adapt the directory-setting in .tml (e.g. set the array aConfig(databaseDir) to /metakits or c:/metakits). You will get prompted if the directory doesn't exists and may configure it via the configuration-dialog.
(in version 0.5 adapt the variable in mkweb_05.tcl)
Go to http://your.domain/mkatweb (or version 0.5 http://your.domain/mkweb)
Read the help which is shown in the content-frame.
Download
History
6. Feb. 2004
Released version 0.6: Now released as zip-distribution.
4. Sep. 2003
Released version 0.5: The last "one-file"-version of Metakit@Web.
1. Sep. 2003
Initial version 0.4.
References